CES REACHSTACKERS 45T to 500T CAPACITY
Shad Group are the UK distributor for the CES Reachstacker range which includes:
Standard 45T Reachstackers with Spreader 45T to 50T
Combi series Reachstackers with Spreader 57T to 90T
Heavy Duty series Reachstackers 100T to 500T (movable)
Reachstackers, Container Handlers, Forklifts & Port Handling Equipment
Reachstackers and Port Handling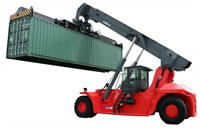 Established for over 45 years, Shad Group are worldwide suppliers of new and used Reachstackers, Empty Container Handlers, Heavy Duty Forklifts, Terminal and Ro-Ro Tractors, Ship to Shore Cranes, Mobile Harbour Cranes and Rough Terrain Cranes and all other heavy duty material handling equipment for the Wind Turbine, Oil and Gas, Port and Terminals industries supplying equipment from manufacturers including CES, Kalmar, CVS Ferrari, Hyster, Linde and Terex among others.
Established in 1969, Shad Group is a market leader in the supply and maintenance of heavy duty port handling equipment. From our base in Burscough in Lancashire, we supply and maintain Reachstackers, Empty container handlers, Forklifts and all other container handling equipment to operators of sea ports in many countries on all 5 continents.
THE ONLY UK SUPPLIER OF 45t to 500t reachstackers
45 years of exporting to our worldwide customer base
Worldwide technical support for all machines supplied
Full finance packages available with flexible payment terms
Fully trained and highly experienced engineers
All equipment supplied fully serviced and repaired with warranty & Certification
Re-assembly service on customer's site worldwide
Maintenance & training for customer's staff worldwide